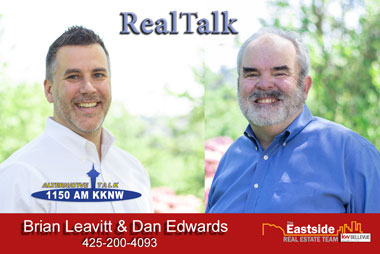 Wednesdays, 3:00 pm – 4:00 pm
RealTalk with Brian & Dan, presented by The Eastside Real Estate Team, is your chance to discover the world real estate with two professionals who are engaging, knowledgeable, approachable and who firmly believe that a home is more than just a house.
Each week, Dan Edwards and Brian Leavitt step up to the microphones and provide a one-stop location to learn about all things related to the real estate industry.
"Whether you are looking to buy, sell or invest in real estate, the process does not have to be stressful," said Brian, adding, "At The Eastside Real Estate Team, our clients' experience is priority number one. We work as a team and leverage our individual strengths for the ultimate benefit of our clients. We are committed to quality and excellence in all we do."
Brian & Dan make it there mission to help our clients however possible, guiding them to success and protecting their best interests every step of the way. "With The Eastside Real Estate Team at Keller Williams Realty Bellevue, we listen to our clients, not simply fitting them into a marketplace array of choices, but rather moving alongside them and focusing on their expressed dreams and visions," said Dan.
Dan entered real estate in March of 2006 and has an extensive background in sales, business and technology, enabling him to be an efficient real estate professional. He says his vision is to ensure the process of buying, selling or investing in real estate making it a positive one.
During their show, Dan and Brian welcome in fellow team members and industry experts. They all combine to bring listeners great information and quick tips to help save on stress and trim expenses when it comes to the sales process.
"We are happy to work with buyers, sellers and investors, whether they are first timers, or experienced home buyers. We make thoughtful, concerted efforts to continually improve the level of our service. It is the most profound acknowledgement when we gain your respect and your trust," said Dan.
Learn more about this fascinating program and these dedicated radio show and real estate professionals,