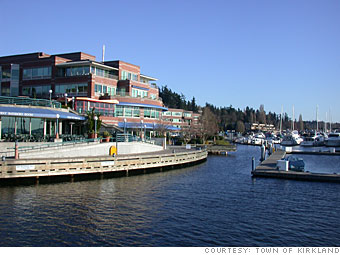 About Kirkland Washington
Here is some great information about Kirkland Washington.  Kirkland lies within King County, in Washington. Founded by Peter Kirk in the late 1800's, it is a suburb of Seattle on the Eastside of Lake Washington. Kirkland's unique features include the distinctive downtown waterfront along Lake Washington. There are popular restaurants, art galleries, a 400 seat performing arts center, public parks, including beaches, great Farmers Market and endless fun for adults and children. You are sure to find things to do in Kirkland and build long-lasting memories.
Kirkland is a home to Lake Washington Technical College and Northwest University. Along with these two wonderful colleges, the highly ranked Bastyr University also has a home near the lovely neighborhood. There is a thriving variety of small businesses, large corporate headquarters, light industrial and manufacturing, and an emerging base of high-tech and home-based businesses characterize Kirkland's local economy.
Kirkland is within the wonderful Lake Washington School District with well-ranking Elementary Schools, Middle Schools and High Schools. Some of the top schools include, Benjamin Franklin Elementary School, Kirkland Junior High, Lake Washington High School and many more.
What about Kirkland Washington neighborhoods? Great neighborhoods in Kirkland abound, including Juanita, Central Houghton, Finn Hill, Evergreen Hill, East of Market, Rose Hill, Norkirk, Highlands, Totem Lake, Moss Bay, Everest, Bridle Trails and Lakeview. Each having their own unique features, you are sure to find a home that fits your lifestyle.
The median home value in November 2013 was $485,000. 
Kirkland is a popular place to live for the first-time home buyers and also very prestige for the more luxurious living, with home prices into the millions. View homes for sale in Kirkland, and you will see why the city is so special.