April 2019 King County & Eastside Housing Report
Posted by Dan Edwards on Monday, May 13, 2019 at 9:55 AM
By Dan Edwards / May 13, 2019
Comment
Inventory numbers are increasing. This is the season for selling, keep in mind though we are still in a friendly buyer's market. In April the number of total active listings in King County rose by 78.46% from 2591 to 4624 . On the Eastside, inventory increased of 78.95% YoY from April of 2018. While these numbers may look drastic, that increase was down from last month.
More choices for buyers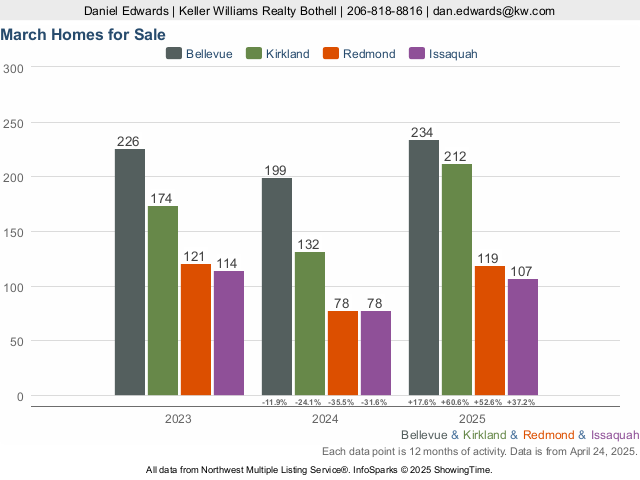 Pending sales were up and closed sales were down. According to our King County Home Sales Report pending sales across King County also showed a increase of 15.13% and Eastside pending sales were up 22.13%
King County Closed Sales were about the same as last April down .090% Eastside closed sales also decreased by 1.33%. Despite the increase in inventory and the decline of closings, pendings however showed a rebound. The median house sales price in King County is showing the effects of the ability of buyers to choose. It droped down 3.85% over last year to $625,000 and a median sale price on the Eastside saw a decrease of 1.92% down to $835,500
The Absobtion Ratio is still at 1.69 in King County and 1.75 on the Eastside. - A ballanced market is 4-5 Months of Inventory
For additional details, see the December raw numbers from the Northwest Multiple Listing Service: NWMLS April 2019 Breakouts
Pace of the Market - Market Action Index
For our King County home sales report market activity looks like it has started on the upswing…. and shows signs a classic spring market. See above Market Action Index (a gauge of market activity).
Buyers affordability remains high, with interest rates around 4.02%!
Median Price for Key King County Cities
Bellevue: $895,000 up 2.3%
Kirkland: $815,000 up 12.6%
Redmond: $829,000 up 8.7%
Seattle: $700,000 up 2.9%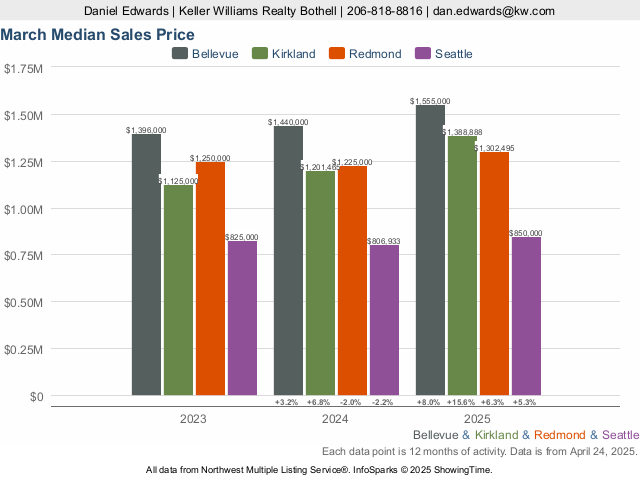 Also, be sure to check out the national real estate trends at Realtor.com. If you compare the national picture against this months home sales report, you will see that King County and the Eastside are top performers!
What does this mean for home sellers?
Sellers and would-be sellers the early bird will get the worm! While the market has slowed a bit, it inventory still favors the sellers. There are still homes selling with multiple offers and while prices are not falling, price reductions are increasing. If you intend to sell your home, you need to be realistic in time-frame and price. To be one of the homes that sell you must have the best features and benefits for the price. If your considering a sale, please click here for a complementary market analysis of your home.
What does this mean for home buyers?
RATES ARE GREAT!!! The best they have been in 13+ months. Competition is coming back to the market. Understand that this will last until at least the middle of June. Don't be supprised if you have to compete for a good home. We are seeing some ability for move up buyers can now use the Contingency clause to allow them to secure a future home before putting their home on the market. A great opportunity for those that have had their move up dreams on hold.
According to Bankrate Today rate shows 4.02%
Home Sales in King County
Below are links to homes available for the King County communities of Bellevue, Issaquah, Kirkland, Seattle, Redmond, and Sammamish. Just click on the link to your neighborhood for the complete breakdown for the week of 4/12/19.
I hope you find this home sales report useful. Please share with your friends. To find out how much your home is worth in today's market, please click here for a complementary market analysis of your home. And if you are interested in selling your home for top dollar, in the shortest amount of time, please contact me anytime at 425-200-4093, or click here to send me an e-mail requesting further information.