February Market Report
Posted by Dan Edwards on Thursday, March 11, 2021 at 10:01 AM
By Dan Edwards / March 11, 2021
Comment
February showed yet another month of declining inventory and the end result is that with less inventory on the market we continue to have an imbalance of supply and so we find ourselves a market that favors sellers. In February, the number of total active listings in King County dropped by 17.69% from 2,221 to 1,826 YoY. On the Eastside, inventory decreased 36.64% YoY from February of 2020. This level of inventory decrease isn't normal for winter, but there is still less competition for people wanting to sell their homes.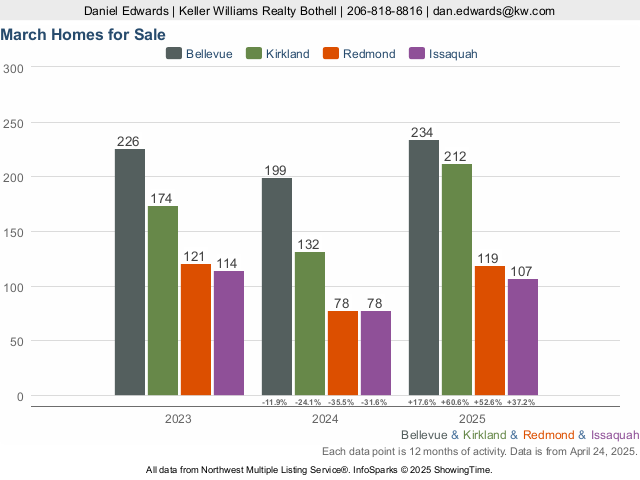 Pending sales slightly decreased and closed sales increased from February 2020 in King County and pending sales decreased slightly on the Eastside. According to our King County Home Sales Report, pending sales across King County decreased 1.04% and Eastside pending sales decreased 10.89%.
King County closed sales were up 13.48% and on the Eastside closed sales increased 8.07%. With the decrease in inventory and how pending sales are looking, more homes may be available in the spring. The median house sales price in King County is slightly higher by 10.42% over last year to $679,075 and the median sale price on the Eastside saw an increase of 15.17% up to $955,125.
The Absorption Ratio slightly decreased to .85 in King County and .67 on the Eastside. A balanced market is 4-5 Months of Inventory. There are serious buyers in the market right now, good homes priced well will sell quickly.
For additional details, see the February raw numbers from the Northwest Multiple Listing Service.

The pace of the Market - Market Action Index
Buyers' affordability remains high, with interest rates around 2.86%!
Median Price for Key King County Cities
Bellevue: $1,035,000 up 17.61%%
Kirkland: $1,338,000 up 8.34%
Redmond: $796,000 up 10.17%
Seattle: $710,000 up 5.19%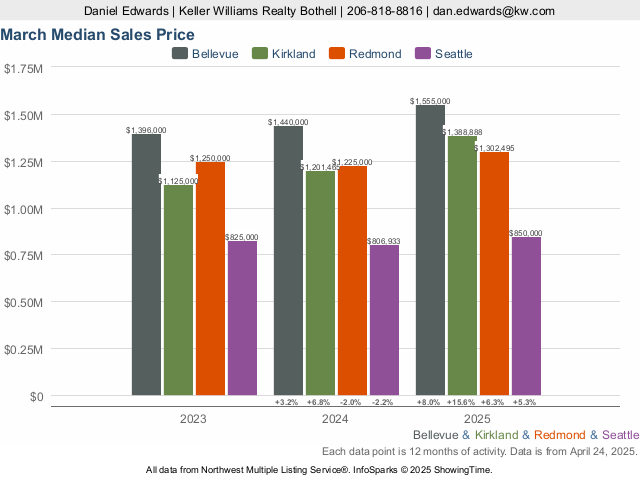 Also, be sure to check out the national real estate trends at Realtor.com. If you compare the national picture against this month's home sales report, you will see that King County and the Eastside are top performers!
What does this mean for home sellers?
The market has tightened up, inventory reduction favors the sellers of good homes. Homes selling with multiple offers, however, and contingencies are being waived. If you intend to sell your home, let's talk about timing as things are hotter than normal. If you're considering a sale, please click here for a complimentary market analysis of your home.
What does this mean for homebuyers?
RATES ARE GREAT!!! Competition for the best homes is coming back to the market. Don't be surprised if you have to compete for a good home.
Home Sales in King County
Below are links to homes available for the King County communities of Bellevue, Issaquah, Kirkland, Seattle, Redmond, and Sammamish. Just click on the link to your neighborhood for the complete breakdown for today's numbers.

I hope you find this home sales report useful. Please share it with your friends. To find out how much your home is worth in today's market, please click here for a complimentary market analysis of your home. And if you are interested in selling your home for top dollar, in the shortest amount of time, please contact me anytime at 425-200-4093, or click here to send me an e-mail requesting further information.