September 2019 Housing Report
Posted by Lorenz Laurito on Monday, October 14, 2019 at 1:09 PM
By Lorenz Laurito / October 14, 2019
Comment
September showed a second month of declining inventory and the end result is that with less inventory on the market we still have an inballance of supply and so we find ourselves a market that still favors sellers. In September, the number of total active listings in King County dropped by 17.55% from 6,587 to 5,431. On the Eastside, inventory decreased 20.73% YoY from September of 2018. This level of inventory decreese seems seasonal, but the effect it will have is less choice for buyers and may drive prices up again.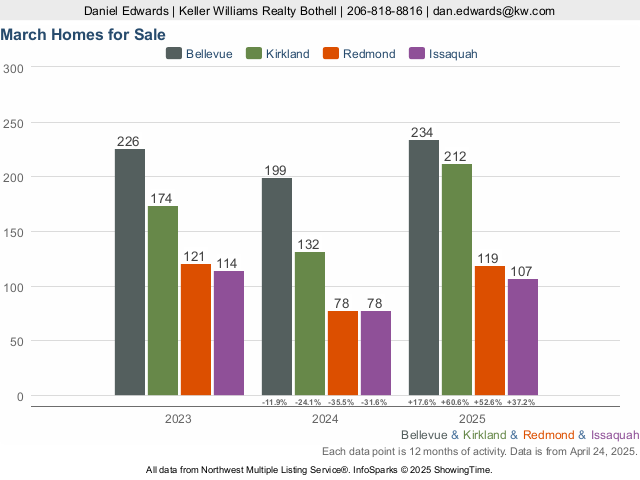 Pending sales rose from September 2018 in King County and the Eastside, but closed sales were down on the Eatside. According to our King County Home Sales Report pending sales across King County rose 9.83% and Eastside pending sales were up 8.63%.
King County Closed Sales were up 7.51% however on the Eastside closed sales were down 2.21%. With the decrese in inventory and pending sales are up, less homes may be available in the fourth quarter. Buyers looking for deals may have to search harder. The median house sales price in King County is showing the effects of the ability of buyers to choose. It decreased 2.66% over last year to $593,750 however the median sale price on the Eastside saw a increase of 3.75% up to $830,000.
The Absorption Ratio increased to 2.17 in King County and 2.28 on the Eastside. A balanced market is 4-5 Months of Inventory. Even though buyers have choice, good homes price well, sell quickly. Conversely homes that are overpriced, may stay on the market longer.
For additional details, see the September raw numbers from the Northwest Multiple Listing Service: NWMLS September 2019 Breakouts
Pace of the Market - Market Action Index
For our King County home sales report market activity looks like it has started on the upswing…. and shows signs a classic spring market. See above Market Action Index (a gauge of market activity).
Buyers affordability remains high, with interest rates around 3.82%!
Median Price for Key King County Cities
Bellevue: $828,827 up 3.28%
Kirkland: $885,000 down 4.53%
Redmond: $830,000 up 7.51%
Seattle: $684,500 down 3.22%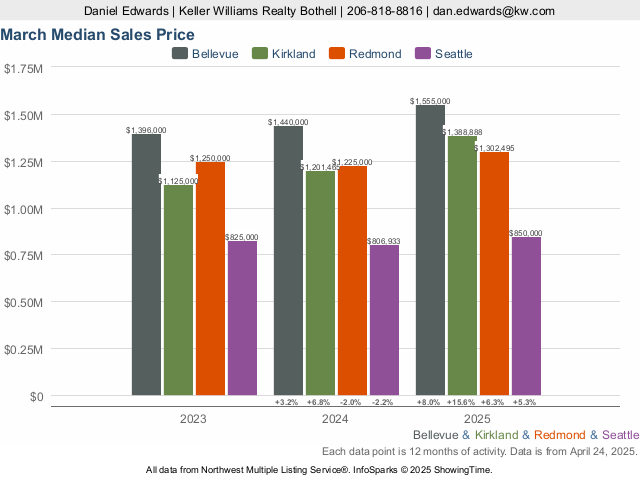 Also, be sure to check out the national real estate trends at Realtor.com. If you compare the national picture against this months home sales report, you will see that King County and the Eastside are top performers!
What does this mean for home sellers?
The market has slowed a bit, inventory reduction favors the sellers of good homes There are still homes a few homes selling with multiple offers, however contingencies are not being waived. If you intend to sell your home, you need to be realistic in time-frame and price. To be one of the homes that sell you must have the best features and benefits for the price. If your considering a sale, please click here for a complementary market analysis of your home.
What does this mean for home buyers?
RATES ARE GREAT!!! Rates are stil around the 4% range. Competition for the best homes is coming back to the market. Don't be supprised if you have to compete for a good home. We are seeing some ability for move up buyers can now use the Contingency clause to allow them to secure a future home before putting their home on the market. A great opportunity for those that have had their move up dreams on hold.
Home Sales in King County
Below are links to homes available for the King County communities of Bellevue, Issaquah, Kirkland, Seattle, Redmond, and Sammamish. Just click on the link to your neighborhood for the complete breakdown for the week of 9/22/19.

I hope you find this home sales report useful. Please share with your friends. To find out how much your home is worth in today's market, please click here for a complementary market analysis of your home. And if you are interested in selling your home for top dollar, in the shortest amount of time, please contact me anytime at 425-200-4093, or click here to send me an e-mail requesting further information.